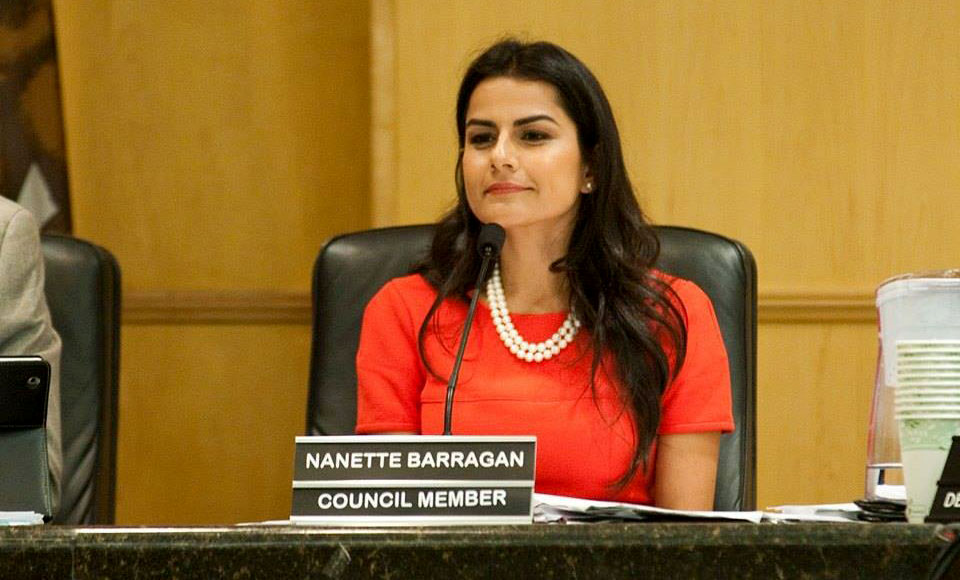 By Eric Michael Stitt / Tuesday, April 14, 2015
The daughter of Mexican immigrants who grew up near Carson, became an attorney, moved to Hermosa Beach, was elected to City Council and became a stalwart opponent of oil drilling, is running for U.S. Congress in 2016.
Barragan, a Democrat, started pondering a run at Washington, D.C. after Hermosa voters resoundingly defeated Measure O. Throughout the last month she has received calls from community leaders encouraging her to run for Congress in California's 44th district. The 44th district includes San Pedro and stretches north to include Carson and Compton.
As a Councilwoman, Barragan saw firsthand how government can affect people's lives. She said, "it would be a dream to represent the community that has made me who I am today."
"Being in Congress would mean that I would get to make sure that the people and the families of my community have a voice in Washington," said Barragan, an attorney with the Los Angeles office of AlvaradoSmith, the largest minority-owned law firm in California. "Watching my parents work so hard to help build a life for me and my family was a major influence. When I was a student at UCLA, I had an opportunity to work at the White House where I realized people with my background could make a difference. I've always wanted to give back to our country and my community to help hard-working families like mine realize the American dream. Getting into politics is my way of giving back. I want the members of my community, no matter the level of government, City Council or Congress, to know that they have a representative who is fighting for them. I want the hard-working members of my community to feel truly supported."
Barragan, currently the Mayor Pro Tem and City Council member since November 2013, said she's intrigued by the prospect of helping on a larger scale. Some of her initial goals would be to raise the minimum wage and getting equal pay for equal work so people can better support themselves and their families. Current 44th district Congresswoman Janice Hahn is not seeking re-election, but will instead will enter the Los Angeles County Board of Supervisors race.
Read the full article: The Beach Reporter