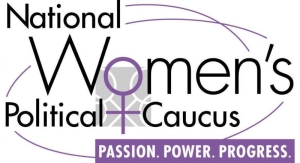 FOR IMMEDIATE RELEASE                                                                                                                                                           
September 18, 2015
Contact: Mike Trujillo
mike [at] barraganforcongress [dot] com                                                                                                                      
National Women's Political Caucus Endorses Nanette Barragán for Congress in CA-44
SAN PEDRO, CA – Today, the National Women's Political Caucus (NWPC), an organization dedicated to increasing the participation of pro-choice women in politics, joined other prominent women's groups, elected officials, community leaders, and various other groups, in endorsing Nanette Barragán for Congress in California's 44th District.
"I am honored to have the support of such an influential, national organization dedicated to getting women elected to office," said Barragán.  "Despite being 50 percent of the population in this country, women only make up about 20 percent of the Members of Congress. That disparity may help explain why Congress often seems more interested in defunding Planned Parenthood and restricting access to contraception than it is in making sure women who do the same job as men are paid the same amount.  I look forward to making sure the voices of women from the 44th District, California and the entire country are heard in these debates and I look forward to working with NWPC to make it happen."
Marguerite Cooper, NWPC-CA Southern Director, released the following statement regarding the organization's endorsement of Nanette:
"For us, endorsing Nanette was a no-brainer. She is exactly the type of candidate that we need in Congress. The daughter of immigrants from Mexico, she has worked tirelessly to give back to the community that has helped to shape her. She understands what's important to the people in the 44th district and most importantly she is unwavering in her support for women's equality. She has been an advocate for women for years and we know that will continue when she gets to Washington. She will fight for equal pay, access to contraception, paid family leave and ensure that women have a voice that is too often taken away from them. We look forward to working with her for a long time to come."
Barragán, the daughter of immigrants from Mexico, grew up in Carson and the surrounding areas where she attended Stephen M. White Middle School, learned to swim at Carson Pool, and studied at the Carson Library. She worked her way through UCLA and law school at USC before becoming a long-time advocate for the environment and the first elected Latina member of the Hermosa Beach City Council. She was also a leader in the fight against Measure O, a ballot measure that would have allowed oil companies to drill for oil in the Santa Monica Bay.
Find more information here: www.barraganforcongress.com
###