FOR IMMEDIATE RELEASE                                                                                                                                                           
October 14, 2015
Contact: Mike Trujillo
mike [at] barraganforcongress [dot] com
818-968-6048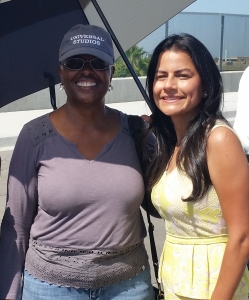 Carson Community Leader Dianne Thomas Endorses Nanette Barragán in CA-44 Race
SAN PEDRO, CA – Dianne Thomas of Carson today endorsed Nanette Barragán for Congress in California's 44th district.
"Dianne Thomas is helping to take on some Carson's more important challenges," said Barragán.  "She is working day in and day out to protect the public's health and is standing up to the fracking industry and the big oil industry.  I can tell you from my experience, that's not an easy fight and I applaud Dianne for her passion and her unwavering commitment.  I'm honored to have her endorsement and I'm looking forward to working with her to make sure that she has an ally in Congress."
Dianne Thomas is a member of a coalition in Carson, which seeks to put an end to oil drilling and fracking in Carson. Thomas cited Nanette's many contributions to the environment and commitment to the health of those in the district as a major reason for her endorsement.
"Nanette has been an ally for the environment and an advocate for public health her entire career," said Thomas. "She understands the people of Carson and she'll fight to protect the health of the members of our community, our families, and our children. We need members of Congress like Nanette who won't bend to the whim of corporate interests and who will do what's best for the constituents. I'm proud to endorse her and look forward to working with her."
Barragán, the daughter of immigrants from Mexico, grew up in Carson and the surrounding areas where she attended Stephen M. White Middle School, learned to swim at Carson Pool, and studied at the Carson Library. She worked her way through UCLA and law school at USC before becoming a long-time advocate for the environment and the first elected Latina member of the Hermosa Beach City Council. She was also a leader in the fight against Measure O, a ballot measure that would have allowed oil companies to drill for oil in the Santa Monica Bay.
Find more information here: www.barraganforcongress.com
###