FOR IMMEDIATE RELEASE                                                                                                                                                           
October 14, 2015
Contact: Mike Trujillo
mike [at] barraganforcongress [dot] com
818-968-6048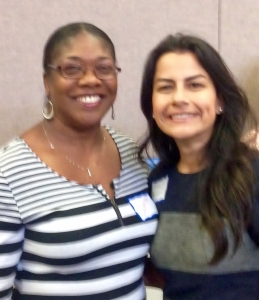 Latrice Carter of Carson Endorses Nanette Barragán in CA-44 Race
SAN PEDRO, CA – Today, a leading member of community leaders in Carson, endorsed Nanette Barragán for Congress in California's 44th district.
"Latrice Carter is the very definition of the title 'community leader'," said Barragán.  "She works tirelessly for her community, she never stops fighting to improve the lives of the people around her, and she proves that a single person has the power to deliver significant change.  I could not be more proud to have her support.  Whether it's protecting our environment from fracking and oil drilling or speaking up for those whose voices are not often heard, she is a champion for Carson and I look forward to working with her for years to come."
Carter works with a group of community leaders in Carson to put an end to practices such as oil drilling and fracking in the Carson community. Citing Nanette's leadership and forward thinking ideas on environmental issues, Carter encouraged other community leaders to support Barragán's campaign.
"We need leaders like Nanette Barragán who are willing to put the interests of the people ahead of the interests of the powerful corporations and their bottom-line thinking," said Carter.  "Congress needs leaders who are unafraid of taking on the Goliaths of Washington, DC.  Nanette is someone who I know will stand out front on the issues important to Carson, and someone who I know will be a voice for us in Washington."
Barragán, the daughter of immigrants from Mexico, grew up in Carson and the surrounding areas where she attended Stephen M. White Middle School, learned to swim at Carson Pool, and studied at the Carson Library. She worked her way through UCLA and law school at USC before becoming a long-time advocate for the environment and the first elected Latina member of the Hermosa Beach City Council. She was also a leader in the fight against Measure O, a ballot measure that would have allowed oil companies to drill for oil in the Santa Monica Bay.
Find more information here: www.barraganforcongress.com
###